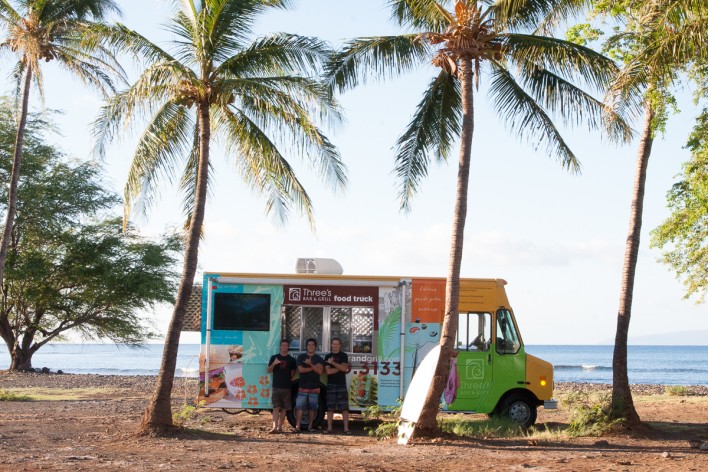 Chefs Cody Christopher, Travis Morrin and Jaron Blosser are all about sharing the love. They're taking Three's Bar & Grill on the road with their Three's Food Truck so you can have the their award-winning food all over the island.
What's on the menu?
The mainstay items served are straight from the Three's Bar and Grill restaurant award-winning menu and include:
-Hurricane French fries 
-Bacon wrapped hot dog. Kim chee slaw
 -Panko crusted ahi roll
-Coconut fish sandwich

-Mushroom Swiss burger

-Fish tacos with pineapple corn and black bean salsa

-Macadamia nut crusted chicken sandwich with Kim chee slaw

-Macadamia nut chicken plate lunch

All items between $5 and $12 
Where's Three's Food Truck?
7 Days a week 11:00am to 5:00pm at the"Like Poke and Friends Food Truck Oasis" located half block up from the Costco gas station on the Haleakala Hwy.
EVENTS – Wailuku First Friday, Makawao Third Friday, Kihei Fourth Friday, Maui Swap Meet on Saturdays
OTHER – Check the Twitter, Facebook and Instagram feed for daily locations.
YOU TELL US – The first person to spot the truck each day and post their personal photo of the truck at its current location on the Three's Bar & Grill official Facebook wall will receive a free meal. The customer must show the chef his/her phone with the posted image to receive the meal. Meal is redeemable only on the same day of the original post and only at Three's Food Truck. Meal is described as one entrée and excludes beverages.
How do I book the Truck?
Three's Food Truck is available for private parties, events and weddings with customizable menus. To reserve Three's Food Truck for your event, contact Chef Travis Morrin at (808) 879-3133 or info@threesbarandgrill.com.