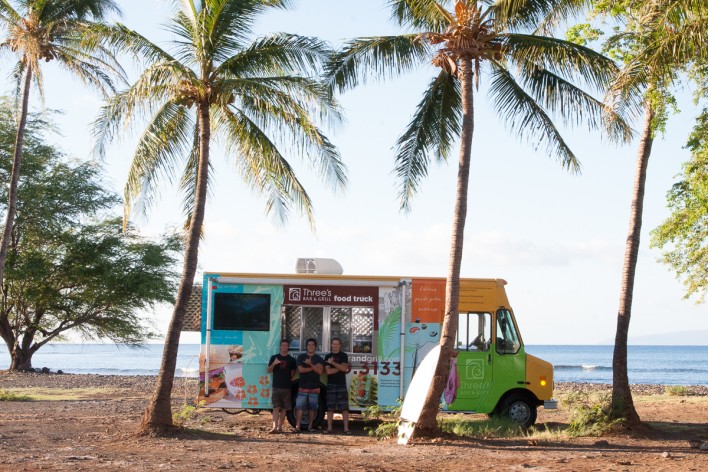 Chefs Cody Christopher, Travis Morrin and Jaron Blosser are all about sharing the love. They're taking Three's Bar & Grill on the road with their Three's Food Truck so you can have the their award-winning food all over the island.
What's on the menu?
Appetizers
-Hurricane Fries- Fries tossed with furikake, mocha crunch topped with sriracha aioli
-Truffle parmesan fries- grated parmesan, truffle oil, mustard aioli
-Fish and Chip- served with French fries, peanut ginger slaw, tartar sauce and lemon
Sandwiches, Wraps & Dogs
-Seared Ahi sandwich- peanut ginger slaw, grilled pineapple, wasabi aioli, brioche bun, Maui chips
-Kim chee Cubano- salt roasted pork, Canadian bacon, swiss cheese, kim chee pickles and kim chee slaw,  
mustard aioli, brioche bun, maui chips
-Seared Ahi wrap- Togarashi seared ahi, haiku organic greens, sliced tomato, Thai basil guacamole, miso  
ginger dressing, Maui chips
-Macadamia nut chicken wrap- Mac nut chicken, haiku organic greens, sliced tomato, papaya salsa, Thai  
basil guacamole, miso ginger dressing, Maui chips
-Blackened Mahi Sandwich- Haiku greens, papaya salsa, tomato, tomato, sriracha aioli
-Bacon wrapped hot dog- pineapple chutney, kim chee slaw, local style mayo mustard
-Panko crusted soft shell crab po boy, greens, papaya peanut ginger slaw, wasabi aioli
Plate lunches- Served with rice, fries or green salad with miso dressing
-Blackened Mahi Mahi- Big Island Papaya Salsa, curry butter sauce
-Coconut shrimp plate- 5 shrimp, pineapple chutney and thai sweet chili sauce
-Macnut chicken plate- papaya salsa, thai chili butter
-Shoyu Ahi and avocado poke bowl- served with warm white rice, seaweed salad, tempura crunchies 
-California Roll- Cucumber, avocado and Crab
All items between $5 and $12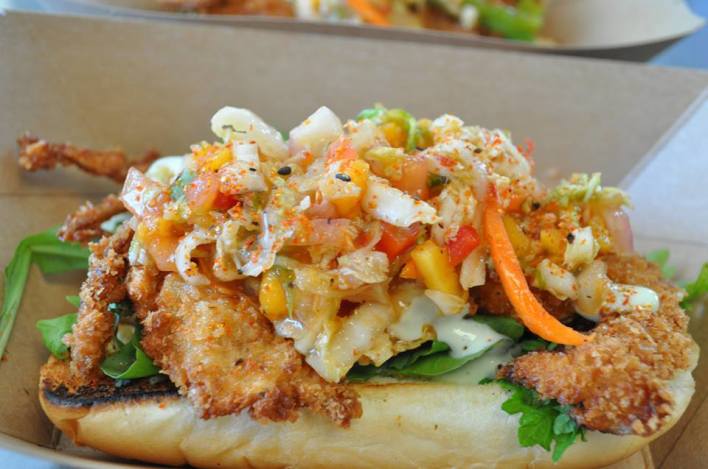 Where's Three's Food Truck?
7 Days a week 11:00am to 7:00pm at the"Kihei Market Place" located across from Kalama Park in Kihei, Maui, Hawaii.
EVENTS – Wailuku First Friday, Makawao Third Friday, Kihei Fourth Friday, Maui Swap Meet on Saturdays
OTHER – Check the Twitter, Facebook and Instagram feed for daily locations.
How do I book the Truck?
Three's Food Truck is available for private parties, events and weddings with customizable menus. To reserve Three's Food Truck for your event, contact Chef Travis Morrin at (808) 879-3133 or info@threesbarandgrill.com.