Macadamia Nut Crusted Chicken Breast, Big Island Papaya Salsa, Snap Peas, Passion Fruit Beurre Blanc
Yield: 4 servings Prep: 30 min Cook Time: 15 min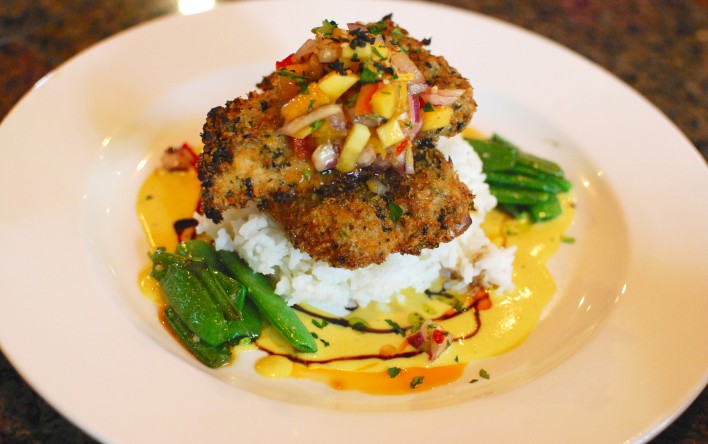 Macadamia Nut Chicken Recipe
4 skinless boneless free range breasts – 6oz ea.
1 C. coarsely chopped macadamia nuts
2 C. panko bread crumb
½ C. furikake
2 eggs mix with 2 tbsp milk or water
½ C. flour
3 shallow pans
Cut breast in half, gently pound out breasts between to pcs. of plastic wrap, about ¼" thick

Season breasts with salt and pepper. Set up breading station.  Flour in one pan, egg wash in second and mix panko, nuts and furikake in third pan.

Dredge breasts in flour, shake off excess.  Dip in egg wash and then into the bread crumb mix.  Press mixture into chicken for even coating.

Heat a cast iron pan over med-high heat.  Pour 1/4" vegetable oil in pan.  Test oil with touch of bread crumb, it should sizzle.  Place chicken in pan and cook both sides until golden brown, about 4 min each side.  Set aside for later.
Big Island Papaya Salsa
1 papaya
¼ C. finely diced red bell pepper
¼ C. finely diced red onion
½ C. fresh tomato diced
Tsp minced pickled ginger, plus tsp. pickling liquid
Tsp cilantro minced
Tbsp. sweet thai chili
Juice and zest of one lime
Tsp sambal or pinch red pepper flake
In a med. bowl mix ingredients. Season with salt and pepper. Allow to marinade a few hours. Serve chilled. Can be prepared day before.
Passion Fruit Buerre Blanc
1 C. white wine
¼ C. rice wine vinegar
Tsp. fresh ginger minced
Pinch whole black pepper corns
1 bay leaf
½ C. heavy cream
3/4 C. fresh lilikoi or puree
Tbsp. honey
½ lb. butter cut into cubes, keep chilled
In a small stainless steel sauce pot, place first 5 ingredients in and bring to a boil.  Reduce until reduction is almost dry, about 1 tbsp liquid remaining and dark amber in color.

Add cream, reduce by half. Gently whisk in butter piece by piece over med low heat, carefully allowing butter to melt before adding more.  Whisk continuously until all butter is incorporated.

Whisk in lilikoi, honey and pinch of salt.  Taste to season. Hold in warm place.
Snap Peas
2 C. cleaned snap peas
1 tbsp vegetable oil
Tsp garlic minced
Salt and pepper to taste
Bring a saute pan up to temp. over med high heat.  Place oil in pan and saute snap peas with garlic about 3-4 min. Careful not to burn garlic. Season with salt and pepper.
Serving Dinner
Cook rice brah;) Place ½ cup cooked rice in center of each plate. Place chicken on top of rice. Ladle 1 oz lilikoi buerre blanc around chicken.  Place heaping tbsp. salsa on chicken.  Finish plate with snap peas and toasted sesame seeds for garnish.