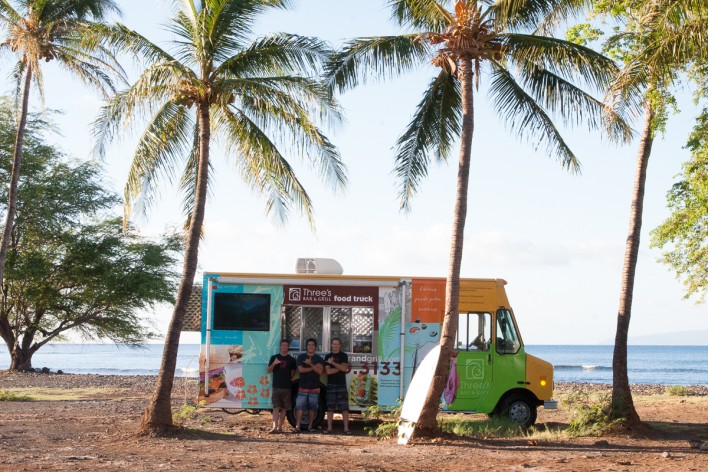 There's a new food truck on Maui roads – Three's Food Truck (#ThreesFoodTruck). They plan to bring the truck to the best island events, private parties and weddings, and even have a weekday location on the westside at West Maui Fresh Market near Kaanapali.
The 23-foot beast of a truck is decked out with a full kitchen and wrapped in the restaurant's signature retro-style surf graphics with pictures of the chefs and food they serve. The order window is flanked by a 52-inch flat screen television that loops surf videos and food shots, sharing the chefs' love of both. Surfers and customers alike can catch new surf "vids" while waxing up their "shred sticks" and chomping on some "ono grindz" (Hawaiian slang for good eats). Board wax is available on the menu, so "No worries, brah. We get `em."
Jaron Blosser, Cody Christopher and Travis Morrin are the "three" chefs and co-owners of Three's Bar & Grill. They are also longtime friends and surfers. It was surfing that brought them together to form Three's Catering and later Three's Bar & Grill. Their vision was that they would have their own business so that they could surf when they wanted. An opportunity to bring their newest "restaurant" to the surf is, well, swell.
"We are stoked to take our show on the road and share our food with everyone across Maui," said chef/co-owner Jaron Blosser. "It's always been a dream of ours to have a food truck since we opened in Kalama Village over three years ago. This is really an exciting moment in our company and one of many great new things we are doing.
"There is an up and coming trend for food trucks at events, private parties and even weddings. We want to be part of that movement here on Maui. I just know that our truck, and the food we can produce from our truck, is going to be a hit."
What's on the menu?
The mainstay items served are straight from the Three's Bar and Grill restaurant award-winning menu and include Peruvian pork tacos with Kula corn, black bean and mango relish; Hamakua mushroom and Swiss cheese burger; hurricane French fries; panko crusted ahi roll with Thai curry butter sauce, and more. Prices range from $5 to $12.
Maui Juice Company provides fresh and local organic fruit and vegetable juices on the spot. A food truck breakfast menu is planned for the fall and will feature Maui Oma Coffee.
Board wax, for those that may run out, is always on the menu.
Where's Three's Food Truck?
Three's Food Truck will be at Wailuku First Fridays, Makawao Third Fridays and Kihei Fourth Fridays, as well as the Maui Swap Meet on Saturdays throughout the year.
To find their daily locations, check for the truck's whereabouts posted on their Facebook page.
How do I book the Truck?
Three's Food Truck is available for private parties, events and weddings with customizable menus. To reserve Three's Food Truck for your event, contact Chef Travis Morrin at (808) 879-3133 or info@threesbarandgrill.com.