Corned Beef and Cabbage with Roasted Red Bliss Potatoes and Green Mustard
Yield: Serves 4-6 Prep Time: 20 min Cook Time: 2hr.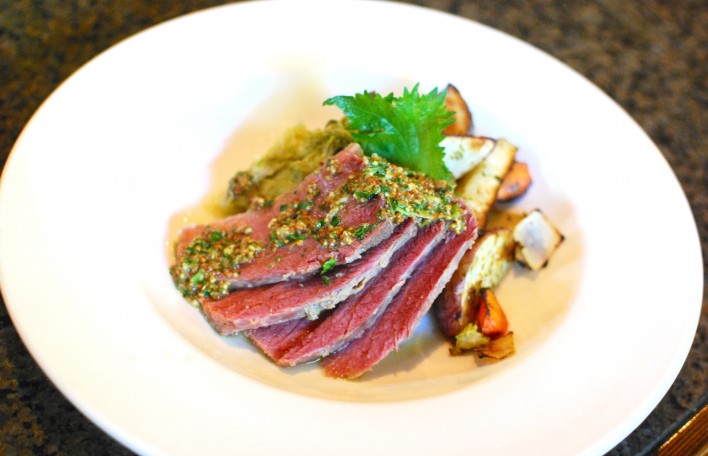 1 store bought corn beef brisket in brine (4 to 5lbs.)
1 head cabbage quartered
2# Red bliss potatoes quartered
3 medium carrots chopped
2 stalks celery chopped
2 medium onion chopped
1 bay leaf
1 cup prepared pesto
1 cup whole mustard or Dijon
1. Unpack corn beef and place in a pot and cover with water. Add bay leaf, one chopped carrot,
celery stalk and half onion. Bring to a boil and reduce to a simmer. Add cabbage one hour in.
Cook until fork tender.
2. Pre heat oven 400 degrees. Toss potatoes and remaining carrot, celery and onion with ½
prepared pesto. Place on sheet pan. Roast vegetables until fork tender about 1 hr.
3. Mix remaining pesto with mustard.
4. To serve: Carefully remove brisket from water and store in warm spot. Allow to rest a few
minutes. Slice against the grain, serve with roasted vegetables, cabbage and green mustard.